Meet Our Team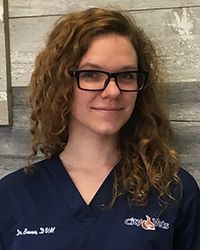 Dr. Rachel Bunn, DVM
Associate Veterinarian
Dr. Rachel Bunn is from Richmond VA (born and raised) and completed her veterinary training at Virginia Tech (VMCVM). She decided she wanted a change of pace and so has lived in the South Side of Pittsburgh for the last year. At first she worked at a large practice, seeing both regular appointments and emergency visits. But when she heard that City Vets was opening to serve the South Side, she couldn't wait to jump on board! Rachel has two cats of her own- a Siberian cat named Liesel from a private, responsible breeder; and Otter, a long-haired kitty who was rescued from under a porch at 2 weeks of age and hand-raised along with his 3 brothers, who are with loving families of their own now. Aside from working with your cats and dogs and spending time with her own, Rachel enjoys hiking, camping, and rock-climbing. James (Jimmy) Baldwin DVM, MBA
Veterinarian
Dr. Baldwin grew up in Frederick, MD and went to veterinary school at St. Matthews University School of Veterinary Medicine located on Grand Cayman Island. He did his clinical year at Mississippi State University. In 2019 he bought a house in North Hills, where he lives with his Pitbull, Osiris. At first he wanted to do emergency medicine, but then found interest in canine rehab. He is still working to get his certification for rehabilitation but incorporates what he's learned to his cases. He has plans to become CCRT certified, as well. In his free time, he enjoys riding motorcycles, relandscaping his yard, and watching sports. He follows Pittsburgh professional teams and Notre Dame at the college level.